Home sweet home! We just got back from our cruise to Alaska, which was fabulous. We strarted off with a couple days in Seattle which was so much fun. It was my first time there and I LOVE it, it is such a great city, like a mini New York. Then off for a cruise through Alaska and Canada. The weather was rainy and stormy the whole time and I loved it! Alaska is truly a magnificent place, reminds me of New Zealand with it's gorgeous green and fresh landscape. We saw a couple of whales and seals, but they were small. Poor Jason had a fever of 103.3 for a couple of days so off to the ship's doc, who thought it was probably a three day virus and turns out he was right, so thankfully he was all better on day four! The food was really good and the staff were wonderful with Jason. By the end of the seven days he was famous, definitely the cutest baby the ship had ever seen!!!

"Here you go Sir, one double Mai-tai!"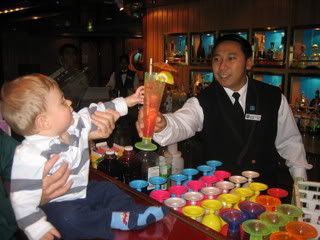 "Oh yeah, good stuff!!"



"Wow, this really is a double!!"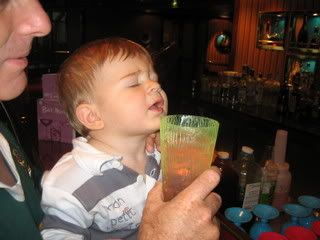 "Here Mama, you have some too"



"Alaska is COLD"



"Bye Bye Alaska!"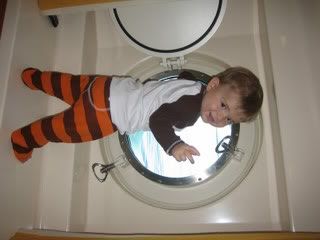 Mama's new fella that she met on board: